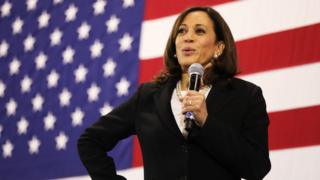 US Senator Kamala Harris – chosen by Joe Biden as his Democratic vice-presidential candidate – is known as a prominent black politician. But she has also embraced her Indian roots.
"My name is pronounced "Comma-la", like the punctuation mark," Kamala Harris writes in her 2018 autobiography, The Truths We Hold.
The California senator, daughter of an Indian-born mother and Jamaican-born father, then explains the meaning of her Indian name.
"It means 'lotus…