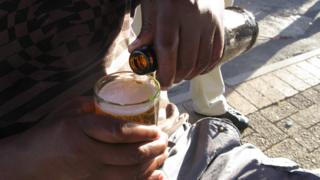 South Africa's ban on alcohol during the coronavirus pandemic has prompted the BBC's Vumani Mkhize to reflect on why he and his country have such a toxic relationship with drink.
I was a 17-year-old in my penultimate year at school when I had my first blind-drunk experience, which led to my expulsion in 2002.
I was returning to Ixopo High School in KwaZulu-Natal province, which is surrounded by undulating green hills so famously described by anti-apartheid writer Alan Paton in the seminal novel Cry, the Beloved Country.
Paton…